The 2019 InterPlanetary Festival will take place June 14-16 in Santa Fe, NM
The first Interplanetary Festival in June 2018 attracted thousands of space enthusiasts to downtown Santa Fe. The 2019 event is going to be bigger and better, with leading thinkers, creators, and scientists reimagining our future as a species.
Join celebrity physicist Sean Carroll, author and urban designer Nicholas de Monchaux, essayist Cyree Jarelle Johnson, chef and restaurateur Mark Miller, Hugo and Nebula Award-winner Rebecca Roanhorse, and sci-fi novelists Daniel Abraham and Ty Franck, co-authors of "The Expanse" series under the pen name James S.A. Corey.
View complex challenges through an interplanetary lens in our provocative series of panel discussions — Building Life From Scratch, Creative Black Futures, Diverse Intelligences, Extremophile Cities, Time, Vintage Space Technologies, and World Building.
Geek out on moon suits, explore interactive expo booths, watch classic sci-fi film screenings, and enjoy live musical performances by The Family Stone, Itchy-O, Lindy Vision, The Lost Aliens, The Sticky, That1Guy, and Tone Ranger.
The 2019 festival takes place in Santa Fe's Railyard Park and indoors at SITE Santa Fe — a contemporary art space.
For the latest developments, and to register for this free event, visit interplanetaryfest.org
Join us in Santa Fe June 14-16 to "Change the world, one planet at a time."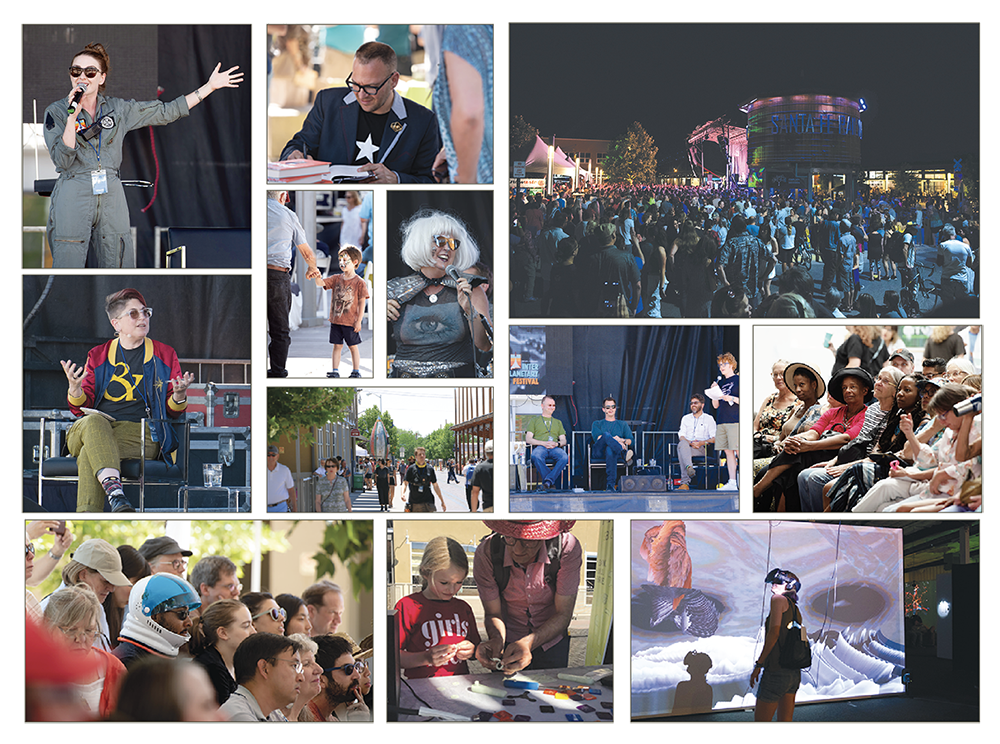 Snapshots from the inaugural Interplanetary Festival (clockwise and spiraling inward from top left): Festival Director Caitlin McShea; author Cory Doctorow signs books; Ozomatli performs; Shay Youngblood keeps the audience enrapt; a Currents New Media exhibit, SFI Professor Michael Lachmann and his daughter, Ella; a very InterPlanetary crowd, panelist Annalee Newitz; an InterPlanetary fist bump; Amy Lindquist of The Sticky; panelists Graham Spencer, Jonah Nolan, and Kurt Squire, along with emcee D.A. Wallach; Bob Davis's rocket in the Railyard. (Photos by Kimberly Corante, Aaron Leventman, Katherine Mast, and Scott Wagner)
The InterPlanetary Project is part of The Miller Omega Program at the Santa Fe Institute.
An earlier version of this announcement was published October 30, 2018.